The 29 year old mom admits that "the side effects are your heart can grow" and that "if you have a cancerous cell in your body, you are going to multiply that cell at a really quick rate. Is it addictive? Yes, because the results you get are addictive".
The New York Post published all of this and more in an article earlier today here - HGH-addicted mom risks her life to look young and beautiful .
We are not sure we agree with exactly what she said, but nonetheless she is obviously abusing rhGH and making everyone who actually needs it for hormonal deficiencies look bad.
The mother of 3 had breast augmentation at the age of 17 and 2 more since then totaling 3. Admitting she felt ugly as a child:
"When I was at school, I hated my appearance. I hated the fact I was flat-chested. I wanted to have boobs. I hated my hair. I hated everything about myself and then I started to change it"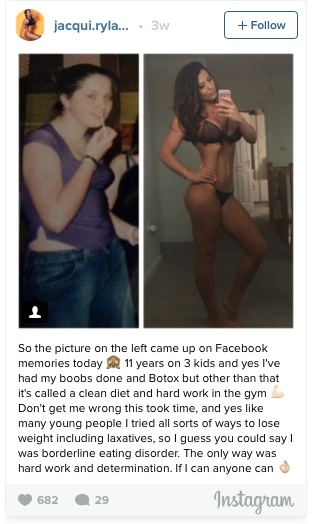 She reportedly takes over 100 selfies a day and gets showered with gifts from strangers because of her boobs. We do have to admit she looks great and is in good shape for her age but abusing rhGH could lead to serious long term health consequences and permanent suppression of her pituitary causing a cascade of other endocrine disorders. This is very dangerous and why you should not change or start any therapeutic program without consulting a licensed physician first.
This is one of the main reasons IMT physicians prefer to treat low growth hormone levels with peptide formulas that make overdosing near impossible, and if these do not stimulate GH secretion then move on to rhGH.
Click Here for the Full New York Post Article
Tell us what you think in the comments below!